Supplies Needed:
PSP: I used PSP9, but any version should do.
Tube of Choice: I used the poser that came with the kit.
Font of Choice: I used The Idiot
here
.
Plugin: VM Natural Sparkle
Let's get started!

New canvas 600X600
Use the ellipse tool to draw a circle
Foreground: #d54f12 Background: Null
Stroke Width: 20
Objects Align Center in Canvas
Duplicate
On bottom Vector layer click + sign
Double click New Ellipse and change Foreground to #000000 and Stroke Width to 25
Convert both to raster
On top layer apply Inner Bevel with these settings:
Bevel:2 Width:8 Smoothness:24 Depth:4 Ambience:-4 Shininess:32 Angle:0 Intensity:32 Elevation:58 Color:White
Merge down

Copy & paste paper of choice (I used Paper26)
Move below Raster1
Select inside Raster1 with magic wand
Expand by 5
On paper layer invert & delete
Deselect
Apply VM Natural Sparkles with these settings:

Drop shadow Raster1

Add any elements you wish
I added the following:
Element45
Element43- resize 75%
Element32- resize 25%
Element77- resize 25% free rotate left 25
Element78- resize 25% then 70% free rotate left 25
poser1- resize 65%
Drop shadow all elements

Crop & resize now if you want
Add name & copyright
Save as a .png and you're done!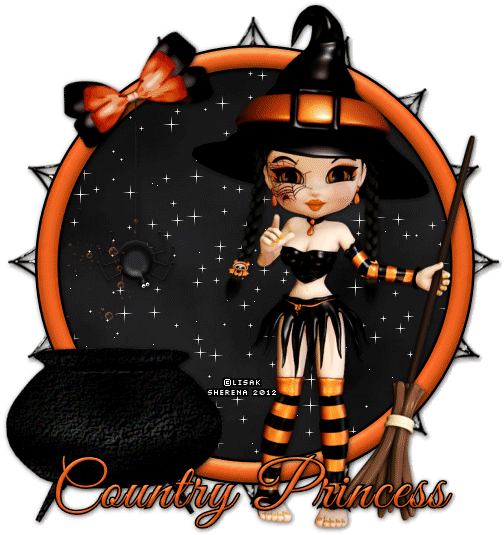 I also did one with animated bubbles. I got the bubbles from
LoveShack's Animations & PSP Tutorials
. I rotated and recolored them to match.
I would love to see your results! If you would like to share just send them to me: sherenassweettreats@yahoo.com